Anti-Aging with Fat
For many years fat has gotten a bad rap. But there are many fats that actually help you 'anti-age'. Even your grandmother's lard serves that purpose. And there are many ancient remedies using fats (don't tell her I said she was ancient) that are good for you.
For example, ancient Egyptians used red palm oil as medicine for aches and pains. It was so sacred that they would be buried with it so they could use it in the afterlife. And it has been used in human consumption for over 5000 years.
Today we know that red palm oil is full of vitamins and antioxidants, particularly Vitamin E. And because antioxidants are free-radical scavengers, they protect against atherosclerosis (hardening of the arteries), cancer, arthritis, Alzheimer's, osteoporosis, and cellular aging (delay aging).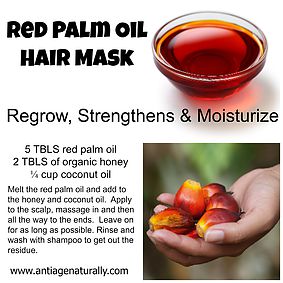 Red palm oil also:
Boosts metabolism
Fights inflammation
Lowers blood pressure
Reduces cholesterol
Red palm has a large amount of carotenes which comes from its red color (more than tomatoes and carrots). Carotenes are then converted by your body into Vitamin A. Vitamin A supports your vision, cell growth and immune system.
Red palm oil can be used for cooking and has a smoke point of 302 degrees Fahrenheit (heat stable). You only want to purchase the raw oil as the processed and refined varieties have been stripped of their nutrients. You will notice them by color. The raw version is reddish-orange while the processed one is white.
Red palm oil is a fabulous moisturizer. But I must warn you, the color makes it a little messy.
I like to use it on a night I want to watch a movie or some trashy Bravo T.V. I put it all over my body, including my face. Then I make sure to put an old sheet or an old blanket on the couch and I wear a dark robe that I don't mind if it gets discolored.
After a couple of hours I head for the shower and wash with soap and water using a dark-colored washcloth. The yellow color is not that bad as it mostly soaks in and it really does wash right off.
Here's me enjoying my red palm oil night: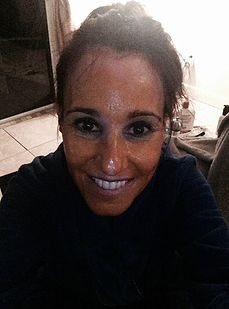 It's well worth the extra steps because you will feel the effects until the next day. I absolutely love it!
Red palm oil is also great for your hair. It strengthens and moisturizes while helping hair growth.
Recipe for red palm oil hair treatment:
4-5 tablespoons red palm oil
2 tablespoons of organic honey
¼ cup of your favorite conditioner (or coconut oil)
Melt the red palm oil and add to the honey and conditioner or coconut oil. You can use one of those hair-coloring bottles for easy application and mixing (just shake them together like hair color). Apply to the scalp, massage in and then all the way to the ends. Leave on for as long as possible, but protect your clothes and furniture by wearing a shower cap. Shampoo and rinse. I would recommend, if you have blonde hair, testing an area near the nape of your neck to make sure it doesn't discolor your hair.
Now this is one fat that I want to stick around!
To a youthful more healthy you!
Sandy
Sandy DeRose