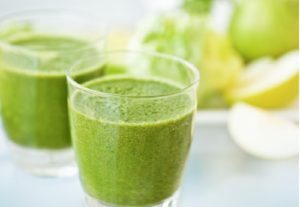 I am hooked on green drinks.
You see, I have a tendency to be anemic. But once I started drinking these smoothies my anemia disappeared.
Green drinks not only taste great they also:
Allow you to get your vitamins naturally
Are high in antioxidants
Are full of anti-inflammatory properties
Improve your skin texture
Prevent cancer and heart disease
Improve digestion
Boost your immune system
When making the drinks I like to use as many organic ingredients as possible.  I don't like to use fruit because it increases the sugar content.
I also will use a tablespoon of almond oil to increase my metabolism and stabilize blood sugar.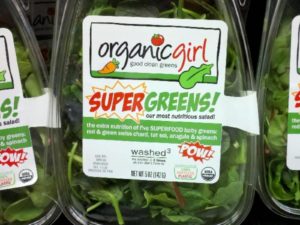 My favorite leafy-greens brand is Organic Girl (pictured right) because they offer a good variety, which changes the flavor, and I can find them at my local supermarket.
And last, but not least, I use a NutriBullet to make my drinks. But I hear that most of the high-speed blenders are pretty much the same.
Green Drink Recipe:
1 cup of organic mixed greens
1 cucumber
1 carrot
¼ cup of Italian parsley or cilantro
2 stalks of celery
¼ cup of dandelions (optional)
½ lemon or lime peeled (optional)
1 cup of water
Blend all ingredients and add a few ice cubes. And if you want it sweetened (I do) use organic raw honey or Stevia.
Also, to change it up, you can add mint or ginger to your green drinks.
To a healthy more beautiful you!

Sandy DeRose
www.antiagenaturally.com
P.S. Click here to read about other healthy drinks.