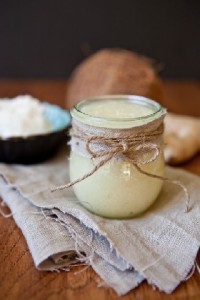 Did you know that many of the commercial anti-aging products out there can actually cause more damage and wrinkles? They may age you prematurely as well. So today I want to give you some natural alternatives that you can do at home.
Here are your anti-aging, wrinkle-free, hacks.
7 All Natural Wrinkle Remedies:
The first step to fighting and reducing wrinkles is to exfoliate. Exfoliating removes old dead skin and reveals younger smoother skin. Making your own exfoliator is easy. Plus you will know what's going on your skin. There are so many different homemade exfoliating concoctions. One of my favorites is an equal mixture of sugar and olive oil. But you can use whatever oil you prefer – almond, jojoba, grapeseed or coconut. It's best for all ingredients to be organic because you don't want to be absorbing any pesticides. Mix up your exfoliator and keep in an airtight container in the shower. Use every other day for best results. Do not just reserve this for your face – your entire body can use exfoliation. To make the most of the treatment apply a moisturizer afterwards. Your skin will be more receptive.
Crow's feet? No problem. Treat with orange slices. Yep, peel an orange not a cucumber. You see, the Vitamin C in an orange slice can work magic because of its antioxidant powers. Keep the cucumber slices, though, for those puffy under-eye bags.
Now let's tighten the skin. My little secret that I have been using for the last four months is apricot-seed oil. I use 100% pure pressed, food grade and am seeing those little crepey areas starting to look smoother and tighter. This one does take time, give it 30-60 days, it's well worth the effort.
Like to use a toner before your makeup? Try some witch hazel. It's inexpensive and much more natural than those commercial products. It also tightens up those pores and is an astringent for adult acne.
Want a temporary facelift before a special evening or an event? Make this one-ingredient mask – so simple – an organic egg white. Just separate the egg white from the yolk and apply to a clean dry face. Leave on for 20-30 minutes, rinse with warm water and pat dry.
Open a Vitamin E capsule, apply to your face and massage in before bedtime. You see, the form of Vitamin E known as tocopherols is moisturizing, prevents wrinkles, protects and enhances your collagen. But all Vitamin E is not created equal. Make sure you don't purchase synthetic. So if you see a 'dl' in front of the word tocopherol skip it.
All day moisture, wrinkle reducer and natural sun protection recipe – ¼ cup of coconut oil, a teaspoon of Vitamin E (tocopherols) and 3-4 drops of teatree oil. Mix together, put in a jar and use as you would any moisturizer. And even if you have oily skin, don't worry, this will have a ph-balancing effect. It soaks in quickly so don't worry about being shiny.
Have a great week!
For a more healthy beautiful you!

Sandy DeRose
To read more about this article click here.
P.S. For a very natural anti-aging serum try Renew.  And for one week only, first-time buyers will receive this very special offer: free shipping and half-price on Renew.  Click here to get your Renew today!
References:
Makpol S, Et. al. Comparative effects of biodynes, tocotrienol-rich fraction, and tocopherol in enhancing collagen synthesis and inhibiting collagen degradation in stress-induced premature senescence model of human diploid fibroblasts. Oxid Med Cell Longev. December 2014.