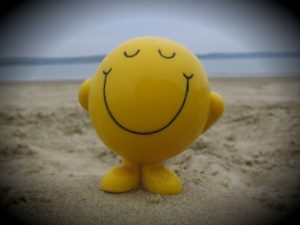 Did you know that feeling happy can have an effect on how you age?
In fact, being happy may slow aging and improve your health according to hundreds of studies.
So, today, I want you to have some happiness hacks:
Smile. Some researchers believe that smiling activates the happiness centers in your brain, leaving you in a better mood. Smile even if you don't feel like smiling.  Smiling also takes years off your face – it's an instant facelift.  One of my favorite quotes, by Dr T.P.Chia, is: "A smiling face is a beautiful face"
Sing in the car. Sing in the shower. Just sing.  Studies show that singing, especially within a group, improves overall health.  So if you've always wanted to join a choir, just do it!
Reconnect with an old friend.  Whether it's a quick text or a phone call, just make it happen.  You'll feel the rewards, joy and happiness.
Do a little jig.  It's just fun!  And fun = happiness.
Keep a gratitude journal. According to gratitude researcher Robert Emmons , people who do feel more optimistic than those who don't.
Practice aromatherapy.  Burn oils or candles scented with lemon, rose, lavender, rosemary, peppermint, orange or jasmine.  You can even just take some deep sniffs of the essential oils for the same effect.
Listen to upbeat, happy music.  It will lift your mood.
Unfriend or unfollow anyone on social media that makes you feel bad about yourself or your life.
Try buying experiences instead of stuff.   Dr. Ryan T. Howell , an Associate Professor of Psychology at San Francisco State University, says that it will make you feel happier.
Practice acts of kindness.  According to studies it fosters positive emotions.
I wanted to share with you what a reader sent me the other day that had me smiling:
From Lele:  "I told my grandmother how much you helped.  She said, "Bake them a cake!"
Have a happy week!
To a healthy more beautiful you!

Psychological wellbeing, health and ageing :
"Research into psychological wellbeing and health at older
ages is at an early stage. Nevertheless, the wellbeing of the
elderly is important in its own right, and there is suggestive
evidence that positive hedonic states, life evaluation, and
eudemonic wellbeing are relevant to health and quality of
life as people age. Health care systems should be concerned
not only with illness and disability, but with supporting methods
of improving positive psychological states."
Read the full study here .
References:
Boehm JK. Et. al.  The heart's content: the association between positive psychological well-being and cardiovascular health.  Psychol Bull. July  2012.
Broyd A, Et. al.  Determinants of subjective well-being in people with psychosis referred for psychological therapy in South London.  Br J Clin Psychol. April 29, 2016.
Lawrence EM, Et. al.  Happiness and longevity in the United States. Soc Sci Med.  November 2015.
Andrew Steptoe, Et. al. Psychological wellbeing, health and ageing.  The Lancet.  February 2015.
Ed Diener, Et. al.  Happy People Live Longer: Subjective Well-Being Contributes to Health and Longevity.  Applied Psychology: Health and Well-Being. 2011.
Kraft TL, Et. al.  Grin and bear it: the influence of manipulated facial expression on the stress response. Psychol Sci.  2012.
Zajonc RB.  Emotion and facial efference: a theory reclaimed.  Science.  1985.
Stegemöller EL. Et. al.  Effects of singing on voice, respiratory control and quality of life in persons with Parkinson's disease. Disabil Rehabil. March 2016.
Li NP, Et. al. Country roads, take me home… to my friends: How intelligence, population density, and friendship affect modern happiness.  Br J Psychol. February 2016.
Ouweneel E., Et. al.  On being grateful and kind: results of two randomized controlled trials on study-related emotions and academic engagement.  J Psychol.  February 2014.
http://www.submissionwebdirectory.com/computers_and_internet/