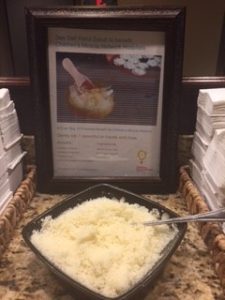 A few years ago I decided to take up golf.  But I tell everyone I just own clubs :).
I've always noticed most of the golf courses have beautiful locker rooms. I like to linger there and peek around and look at the woodwork, the lounge area and decor.  They're all so unique.
Recently one of the locker rooms I was in had a sea-salt hand scrub by the sink.  I thought — what a great idea for my own bathroom.  
It's certainly a great reminder to exfoliate and a great way to clean your hands and keep them soft.  
The golf course was selling this for charity, but I thought I would share this wonderful idea because you can easily make your own.  (Not that I don't want to be charitable – there was no way to pass along the order information or I would have).
One thing, though, is that you don't want to make quite as much as the picture above shows because the oil could go rancid.
So here's a smaller version of the scrub recipe:
1 cup sea salt

¼ cup of olive oil

5-10 drops of any essential oil of your choice (orange is a mood lifter)
Mix together and place in a beautiful bowl with a wooden stick or small spoon.
Wouldn't this be great for the guest bathroom too? I think it would even make a great gift.  Mix up the scrub and put in a beautiful jar with a small spoon, beautiful ribbon, and attach a recipe card.
I just love this idea all the way around.  It looks pretty, makes you feel good, and most of all you are stimulating collagen and helping to turn over skin cells – anti-aging at it's best.
When you exfoliate you reveal younger skin.  Plus, the olive oil is able to penetrate leaving your skin soft and hydrated.
I've written several articles about exfoliating with recipes for the face and the body.  If you've missed them or you'd like to browse them click here.
Have a great weekend.
To a healthy, more beautiful you!
Sandy DeRose