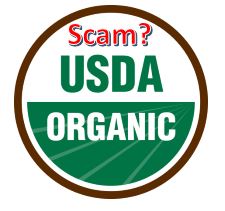 I just love my readers.
A few months ago, after my article about Glyphosates, I received an email from Frank, an organic farmer in southwest Florida. His mom (my reader) had passed along my article.
Frank went on to tell me how much he agreed with my sentiments. And then he said something that I kind of suspected,
"I have heard of many instances of fraudulent claims of organically produced/marketed ag items. Our current system of verification/auditing of organics is woefully inadequate and many folks are paying premiums for organics which are not.'
At this time I had no way to prove what Frank was sharing. But I sensed I was getting the inside scoop.
So I decided to check out the USDA organics regulations and they are very vague.
I did learn that they hire outside agencies to monitor farmers. And from what I can dig up, these agencies only go over the farmers' receipts. Rarely are soil samples taken, which is the only way to know if something is being grown organically. And since they don't take soil samples, I can only conclude that they must not be required by the government.
Frank and I have stayed in touch and recently he sent me some disturbing news – proof that that my suspicions were real.
The headline read, "3 farmers to plead guilty in organic grain fraud scheme". All knowingly marketed and sold non-organic corn, grains and soybeans as organic. According to the article, fraud will become more prevalent because the organics business has become a $50-billion industry.
And many food giants are jumping into the organics game which could mean more corruption.
So now what?
Well, here's what Frank suggests:
"I suppose my underlying suggestions/hope is that organic consumers understand the costs involved in organic production and to really stress the importance of buying local, from your friendly organic grower, whom you can trust above all $$$$$.
I believe we smaller, more local, growers are passionate about safety and quality above the mighty dollar. Please try to instill the trust of your audience in the real, passionate and non-greedy local growers….
True that semi-loads from Mexico etc., are cheaper, but honestly cannot be trusted….
Some of us growers are for real….honestly."
I would also ask to see their certification. And if they are on the up and up you probably won't have to. They'll offer to show you. Also ask if their soil is tested.
Being diligent and educated is going to be the best way to avoid being scammed.
There is one company that I buy from and trust that ships in the U.S. They only have a few produce items. They sell mostly, seafood, poultry, meat and dairy. Click here to check out US Wellness Meats.
And if you missed my first article on glyphosates I've posted it below.
For a healthier you!

Sandy DeRose
References:
Foley, Ryan J. 3 farmers to plead guilty in organic grain fraud scheme. AP News. October 11, 2018.
Defarge N., Et. al. Toxicity of formulants and heavy metals in glyphosate-based herbicides and other pesticides. Toxicol Rep. 2018.
The Hidden Killer in Your Pantry
If you are a regular reader you know that I recently moved. I went from living in a townhome, where I was the past 11 years, to a single-family home.
With that has come some extra maintenance, as any homeowner knows. I'm specifically talking about gardening and lawn care.
It's actually something I have missed … I love gardening. And I've already planted some Aloe and flowers. I'll get started with other herbs in the fall (it's too hot in Florida right now).
And I can't wait!
Here are a couple of pictures of my garden pleasures so far:
But you might be wondering by now what my garden has to do with anti-aging (besides using my herbs in beauty treatments).
Well, in the last few weeks the weeds have been sprouting up and it's time to take care of them. So I'm trying to find a natural herbicide (weed killer). The weeds are too hard to pull by hand because of all the rocks … I can't get to the roots.
And then it occured to me with all this research that maybe I needed to discuss glyphosate.
You see, glyphosate is found in herbicides, specifically, Roundup.
It's the deadly ingredient also found in Agent Orange. For those of you who aren't aware, Agent Orange was sprayed from planes during the Vietnam war to kill off the foliage in the dense forests.
My father served in Vietnam and passed away four years ago from complications due to Agent Orange. He suffered many years with a whole host of medical problems.
But he was one of the lucky ones, as some of those sprayed died young due to cancer. Some became homeless and lost their families because of neurological disorders. I could go on, but you get the picture.
Glyphosate is so dangerous to your health. And it's still around.
I don't want to get on a soapbox about Monsanto (the company of Roundup) and the government. What I want is to help keep you and your family healthy. And I want you to age healthy (unlike my father).
Here are some health issues that have been attributed to glyphosate:
· ADHD
· Alzheimer's
· Autism
· Birth defects
· Cancer – brain, breast, bone, colon, lung, prostate
· Celiac disease and gluten intolerance
· Chronic kidney disease
· Chronic respiratory issues
· Colitis
· Depression
· Diabetes
· Heart disease
· Infertility
· Inflammatory bowel disease
· Lou Gehrig's disease
· Miscarriages
· Multiple sclerosis
· Non-Hodgkin's lymphoma
· Parkinson's
So if you aren't aware – glyphosate is found in a lot of foods. Crops are doused with glyphosate right before harvesting. It's also in drinking water.
In 2016 a report from an independent lab found glyphosate in so many popular processed foods like: Ritz crackers, Cheerios, Wheaties, Kellogg's Corn Flakes, Trix, Cheez-it, Kellogg's Special K, Kellogg's Frosted Flakes, Kellogg's Raisin Bran, Triscuit, Oreo, Stacy's, Lays, Doritos, Fritos, Goldfish crackers and 365 Organic Golden Round Crackers.
Even in some organic food tested, glyphosate was found. According to the report the reason is because "it moves freely in the environment".
But it's still better to eat organic. Here's what the report stated:
"In a study on humans and livestock, scientists
found that "chronically ill humans had significantly
higher glyphosate residues in urine than healthy
humans" and also discovered that humans who ate
conventional diets had much higher glyphosate
residues than those who ate organic food."
In fact, the report goes on to say, "that eating organic for one week reduces pesticide exposure by 90%".
So that is the first step – buy organic. Simply washing your food won't remove the herbicides.
And buying something that is labeled non-GMO isn't enough because it won't tell you that it's glyphosate-free.
Look for these labels to know you are eating pesticide-free food:
And lastly, use natural herbicides in your yard – it'll keep your pets safe too!
For a healthier you!
Sandy DeRose
References: