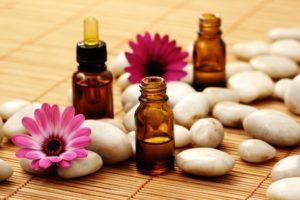 I've always loved herbal oils.
It started many years ago when I would use them to scent my home.  Then it evolved into using them for my skin and  hair.
Before long I was investigating the oils' health benefits and using them in my anti-aging regimen.
I have found so many uses for these therapeutic oils. I think they are magic.  And I've even started making my own.
For today, though, I just wanted to give you a small example of the power of a few oils, hack style.
Frankincense oil is derived from the Boswellia tree and has anti-inflammatory properties.  The oil may be rubbed into the skin to relieve pain associated with arthritis and rheumatoid arthritis.
2.  Want a natural sunscreen?  Try sesame oil.  It blocks 30% of the UV rays compared to only 20% that coconut oil resists.
3.  Grapefruit oil, when used as a massage oil, can alleviate muscle and joint pain and even headaches.
4.  Breathing rosemary can improve memory and mental focus.  It can also protect against neurodegenerative conditions like Alzheimer's disease.  And, in a 2012 study published in Therapeutic Advances in Psychopharmacology, researchers found that exposure to rosemary aroma can improve cognitive performance and mood.  Put rosemary oil into a handkerchief and inhale, or into a room diffuser and breathe in the benefits. (Recipe below)
5.  Nigella Sativa, AKA black cumin oil, is an ancient cure for baldness.  And recent research is showing that it's an effective treatment for hair loss, due to the amino acids and proteins the oil contains.  Apply the oil to the affected areas and massage in.  Allow to penetrate for as long as possible before washing out.
When using any type of oil make sure it is pure.  When I'm purchasing any oil my requirement is that it's edible.  It might not taste good, but if it's safe to eat then it's safe to breathe and apply to my skin.
Have a great week!
To a healthy more beautiful you!

Sandy DeRose
Here's my recipe for rosemary oil: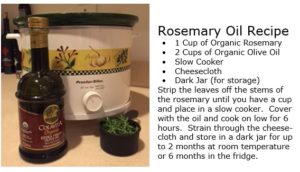 References:
Siddiqui MZ.  Boswellia serrata, a potential antiinflammatory agent: an overview.  Indian J Pharm Sci.  2011.
Radava R. Korac, Et. al.  Potential of herbs in skin protection from ultraviolet radiation.  Pharmacogn Rev.  2011.
Mark Moss, Et. al.  Plasma 1,8-cineole correlates with cognitive performance following exposure to rosemary essential oil aroma.  Ther Adv Psychopharmacol.  2012.
Nigella Sativa Oil Potential Usefulness in Hair Loss.  Dr. U Dermhair Clinic.  November 2014.
Alfredo Rossi, Et. al.  Evaluation of a Therapeutic Alternative for Telogen Effluvium: A Pilot Study.  Journal of Cosmetics, Dermatological Sciences and Applications.  2013.