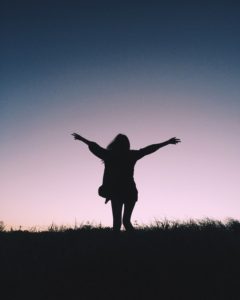 As promised, I wanted to get you another article regarding your spirit and how to anti-age it.
You see, to me this is just as important as exercising, eating well and taking care of your skin.
We need to protect our spirits and not lose sight of who we are.
And let's face it, life can take a toll on your psyche.
I know I've heard myself saying out loud to friends that I just want to feel like my old self (mentally).
And for some reason this week I was just feeling off.  I wasn't even sure why.  I needed to snap out of it.  I want to dance through life (figuratively and literally) not mope around in it.
So that's where you come in.  I knew I told you I would be sending you this article.
How could sad me tell you to feel free and light?
So thank you – you motivated me!
Now I also realize there's not one size that fits all.
But here are some things I did to snap out of it and also some extra things to try if you are not feeling, well, yourself.
If you are on  any  kind of medication and are feeling depressed, speak with your doctor.  It could be a side effect and maybe there is an alternative medication that won't have you feeling that way.
Get some exercise, even if it's just taking a walk.  When you get your blood pumping, breathe deeper, you'll feel better.  This week I actually invested in an activity tracker and it really did help me to get moving and smiling.  In fact, I was caught on video, by my son, being silly, so we had a good laugh (that helped too).
Make someone else's day with a happy text.  It'll make you smile when they turn around and appreciate it.
Play your favorite music and sing in the car … loudly.
Call up an old friend and meet them for lunch.  Reminiscing and connecting can renew our spirits.
Sit quietly for a few minutes just breathing deeply and think of something that makes you happy.
Make sure you are either getting some sunshine or a Vitamin D3 supplement.  Being deficient in Vitamin D can cause depression.
Plan something to look forward to … whatever that means to you.  Maybe it's a vacation, a trip to the beach, the movies or a get-together.  Just plan something.  And do that frequently.  It can be hard when you're down but this is where you have for force yourself.
Make sure you are taking a Vitamin B complex.  Stress can wipe out your B vitamins stripping your energy and leaving you mentally and physically drained.  Replenishing your B vitamins can boost your mood.
Do something nice for yourself … a new lipstick, a new outfit, a new haircut, a massage, a pedicure … you get the idea.
So there you have it.  Of course there could be many things to add to the list.  Hopefully it's inspired something in you.
And sometimes you just have to make yourself do these things and fake it until you make your spirit happy.
But if you have been down for a long time and little things won't lift your spirits, speak to your doctor.
And if you missed last week's article you can catch up  here .
Have a great weekend.
To a healthy more beautiful you!
Sandy DeRose

Picture by: https://favim.com/image/4327860/ (sarahswlon)

References:
Sue Penckofer, PhD, RN., Et. al.  Vitamin D and Depression: Where is all the Sunshine?  Issues Ment Health Nurs.  2010.
Dr. Zahid Naeem.  Vitamin D Deficiency- An Ignored Epidemic.  Int J Health Sci (Qassim).  2010.
Shytle R., Et. al.  Vitamin D and the Brain: More Good News.  The Dana Foundation.  2009.
Darryl W Eyles, Et. al.  Distribution of the Vitamin D receptor and 1α-hydroxylase in human brain.  Journal of Chemical Neuroanatomy.  2005.
Dietary supplement fact sheet: Vitamin B12. Office of Dietary Supplements. https://ods.od.nih.gov/factsheets/VitaminB12-HealthProfessional
Lim SY, Et al. Nutritional factors affecting mental health. Clinical Nutrition Research. 2016.
Mikkelsen K, Et al. The effects of vitamin B in depression. Current Medicinal Chemistry. 2016.