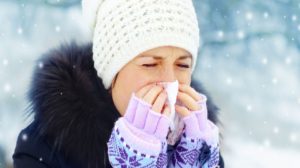 The CDC (Center for Disease Control) has called this year's flu season an epidemic. The reason is because the strain H3N2 is prevalent.  When H3 viruses are predominant there are more serious cases of the flu.  But what's making it even worse is that there are also cases of H1N1.
But really, they're all just silly numbers to me.  More importantly, what can you do?
So today I thought I would share the things I do to boost my immune system (and my family's) so these bugs don't have a fighting chance.
Here are your immune-boosting hacks:
Multiple studies are showing that people with low Vitamin D levels are more susceptible to upper respiratory infections.  And, in the winter months, it's more difficult to get your Vitamin D from the sun (the correlation makes sense).  So you may need to increase your intake.  Some great food sources are cod-liver oil, salmon, shrimp, sardines, mackerel, eggs, mushrooms and cheese.  Some milk products are fortified with Vitamin D3.  You may want to supplement if you don't get enough Vitamin-D-rich foods daily.
I remember my grandmother giving me ginger ale when I was sick. But, actually, if I had taken ginger regularly I might not have needed the ginger ale.  You see, ginger is toxic to E. coli and the common cold.  It has antibacterial, anti-inflammatory and antioxidant properties which also protect the body.  Ginger is a natural blood thinner though. So if you are on blood thinners you may want to speak with your doctor before adding ginger to your regimen.
Research reveals that people who take garlic every day reduced their rate of getting a cold by 60-70%.  And when the control group did get a cold, the duration was shorter than the placebo group.  Garlic is antibacterial, antifungal and antiviral and should be eaten fresh for optimal results. But studies do show that taking 180mg of allicin, which is the active ingredient in garlic, works just as well.  But always purchase only the organic form because there have been reports of heavy metals and arsenic found in the non-organic varieties.
Colloidal silver is also proven to boost your immune system by taking a dropper-full daily – swish in your mouth and hold a few seconds before swallowing.  When fighting bronchial infections, dosing is one teaspoon three times per day or place a teaspoon in a neti pot a couples of times a day.
Letting stress get to you will weaken your immune system.  So fight back with exercise, listening to music, meditating, venting to friends and family – whatever it takes for you to feel stress-free.
Use apple-cider vinegar for the onset, or if you've been around someone with a cold.  It also soothes a sore throat.  Put two tablespoons in a glass of water and drink three times a day.
Curcumin, which is a substance in turmeric, contains potent antiviral, antifungal and antibacterial properties.  This is another immune booster which you can take as prevention or at the onset of a cold or flu.  As prevention take 1000mg once a day.  For therapeutic doses take 1000mg three times per day.
If you are a regular reader you know how much I love black seed oil (black cumin).  The oil is preventative medicine for colds and flus but also treats them.  For prevention take a teaspoon every day.
Getting 7-9 uninterrupted  hours of sleep will also protect your immune system.  When you don't get enough sleep your body gets run down and is unable to fight off colds or flu.  Drinking a glass of almond milk or a glass of tart cherry juice might help you get the rest you need.  Or try a natural sleep aid that contains melatonin and magnesium.
Boost your immune system in your intestines.  You see, making sure you have good bacteria in your gut by eating yogurt and fermented foods, or taking a probiotic, improves detoxification and strengthens  your immune system.   In fact, a recent study in the Journal of Science and Medicine in Sport found that New Zealand athletes had about 40% fewer colds and gastrointestinal infections when they took a probiotic compared to the group that took a placebo.
Lastly, and of course, make sure you are getting good old Vitamin C.  Whether it's from food or a supplement, make sure to get at least 1600mg a day.
For a healthy winter season!

Sandy DeRose
P.S.  For a natural anti-stress supplement try Relax.  Click here to read more.
References:
Aranow, Cynthia. "Vitamin D and the Immune System." Journal of investigative medicine : the official publication of the American Federation for Clinical Research.  Jan. 2018.
Mashhadi NS., Et. al.  Anti-Oxidative and Anti-Inflammatory Effects of Ginger in Health and Physical Activity: Review of Current Evidence. International Journal of Preventive Medicine. 2013.
Ryu HS, Kim HS.  Effect of Zingiber Officinale Roscoe Extracts on Mice Immune Cell Activation.  Major in Food and Nutrition, College of Life Science, Sookmyung Women's University, Seoul, Korea.  2004.
Elizabeth Lissiman, Et. al.  Garlic for the common cold. Cochrane Database of Systematic Reviews: Plain Language Summaries. 2014.
Josling P.  Preventing the common cold with a garlic supplement: a double-blind, placebo-controlled survey.  Advances in therapy.  2001.
Lansdown AB. Silver in health care: antimicrobial effects and safety in use. Curr Probl Dermatol. 2006.
Paulo CS, Et. al. Antifungal nanoparticles and surfaces. Biomacromolecules. October 2010.
Segerstrom SC., Et. al.  Psychological Stress and the Human Immune System: A Meta-Analytic Study of 30 Years of Inquiry. Psychological Bulletin.  2004.
Da-Yuan Chen, Et. al.  Curcumin inhibits influenza virus infection and haemagglutination activity.  Food Chemistry.  2010.
Hannan A., Et. al. J Ayrub Med Coll Abbottabad.  Anti bacterial activity of Nigella sativa against clinical isolates of methicillin resistant Staphylococcus aureus.  2008.
Deepak, Et. al. Entrapment of Seed Extract of Nigella sativa into Thermosensitive (NIPAAm–Co–VP) Co-Polymeric Micelles and its Antibacterial Activity. International Journal of Pharmaceutical Sciences and Drug Research. 2011.
Elizabeth Shimer Bowers. Living With Insomnia: Get a Good Night's Sleep.  Natural Sleep Solutions WebMD. 2016.
Wilfred R. Pigeon, et. al. Effects of a Tart Cherry Juice Beverage on the Sleep of Older Adults with Insomnia: A Pilot Study.  Journal of Medicinal Food. June 2010.
Besedovsky L., Et. al.  Sleep and immune function.  Pflugers Archiv – European Journal of Physiology.  2012.
Yan, Fang, and D.B. Polk. "Probiotics and Immune Health." Current opinion in gastroenterology 27.6 (2011): 496–501. PMC. Web. 21 Jan. 2018.
Haywood BA., Et. al.  Probiotic supplementation reduces the duration and incidence of infections but not severity in elite rugby union players.  J. Sci Med. Sport.  2014.