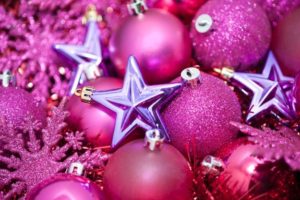 This time of year can be wonderful. But it can also be tiring and stressful.
It's the time of year where you try to do too much and forget about yourself.
The shopping lists are long and so are the lines at the stores.  There are cookies to make, cards to send out, difficult people to shop for, lots of wrapping, entertaining and more social events to attend than any other time of year.
You can pretty much say goodbye to your normal routine.
If any time of year is going to age you it's going to be the holiday season.
But  it doesn't have to!
With these simple hacks you can adjust and make the most of the holidays.  Give your skin and body what it needs without sacrificing your anti-aging regimen.
So Happy Monday!
Here are my tried-and-true tips for bringing in the new year refreshed and feeling great, hack style:
Resist the temptation of falling into bed without washing your face.  And don't forget to slap on some moisturizer too – remember it only takes a couple of minutes to keep the years off your face.
When choosing foods from the buffet, think antioxidants.  Opt for foods rich in Vitamin A, C, E and beta carotene, like sweet potatoes, cranberries, pecans, artichokes, green beans, carrots, beets, red peppers, broccoli, spinach and salads with olive oil.
For every alcoholic beverage you drink have a glass of water.  This will counteract the dehydrating side effects of the alcohol, keep you hydrated and your liver happy.
Pamper yourself before you sit down to wrap presents or bake cookies.  Put on a store-bought facial mask or whisk an egg (the yolk is moisturizing and the white is tightening) and apply.  Wash off when dry. Oh, and don't forget to listen to Christmas music or other tunes you enjoy.  Relaxing music has been proven to reduce stress, blood pressure and anxiety.
Don't forget your  fish oil .  If you don't eat enough fish it's important to supplement.  Fish oil not only hydrates your skin and hair, it supports your bones, heart and brain.  It can also lower blood pressure, relieve depression and reduce inflammation.
Enjoy a little dark chocolate and some cashews too – studies show that they have stress-reducing powers.  Both lower blood pressure, have a calming effect and raise serotonin (the feel-good hormone) levels.
Sleep – don't let the stress of tomorrow deprive you of your sleep tonight.  It will all be there tomorrow and there is nothing you can do until then.  So breathe easy and get your beauty rest.
Take time to enjoy family and friends – laugh and be kind.  Smell the roses or the cookies.
Carve out some time for what you enjoy – maybe it's watching a holiday movie.  Maybe it's driving around looking at the display of lights, or just sitting quietly with a cup of hot chocolate.  Plan it so you can make it happen. It doesn't have to be all hustle and bustle.
Last but not least – It's okay to say, "No".  If you are feeling overwhelmed and can't   make every party or event – (I'll say it again) it's okay!  Give yourself permission to say, no.
I promise if you keep these tips in the back of your mind you'll enjoy this season much more.   And you'll be sure to look rested by January 1st.
Happy "Anti-Aging" Holidays!
For a healthier you!
Sandy DeRose
P.S. Looking for a good natural sleep aid?  click here .
P.P.S.  Need the perfect gift? If you missed my article about the gift no one returns click here .